The Understanding Kit (Video with Guidebook)
Straight from the heart of someone
who has been there,
Shari DeGraff Stewart.
"I have waited so long for someone to truly understand me... and it's finally here in this book." - Kim Argabright, LCSW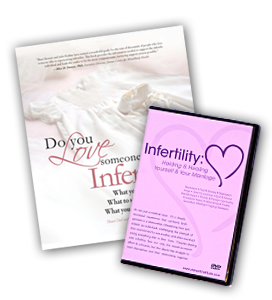 The Guidebook PLUS a comprehensive video of the frank and revealing professional interviews of 4 different infertile couples. These couples' candid stories will touch your heart and empower you in the search for your heart's desire. Video is 135 mins, divided into chapters for easy discussion breaks.
Put words to your experience!
Price $19.95
Read a sample (pdf)| SHARE | REVIEW